Aerometrex San Francisco Data Now Available on Cesium ion
To celebrate the release of Cesium for Unity, we've teamed up with our friends at Aerometrex to enable the use of their high-resolution dataset of San Francisco free for Cesium ion subscribers on the Cesium ion Asset Depot.
With some of the best 3D photogrammetry datasets available, Aerometrex has a rich and growing library of cities, including Denver, Colorado, which is also available on Cesium ion.
"The community that Cesium is creating is truly inspiring. Their technology and open standards continue to unlock new possibilities involving the use of high-accuracy 3D geospatial data in real-time engines and other platforms, and the release of Cesium for Unity dramatically increases the number of people able to access this technology," said Jeremy Pollard, US 3D General Manager at Aerometrex. "What better way to celebrate this than by making San Francisco – the home of Unity – available free to Cesium ion subscribers? We're proud to support Cesium in their efforts and excited to see what the community creates."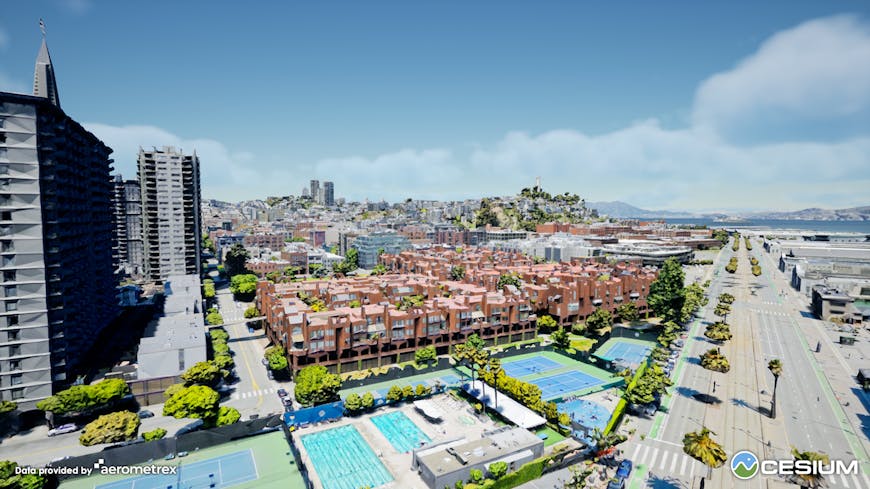 Aerometrex photogrammetry models work seamlessly in Cesium for Unreal and Cesium for Unity, including physics, collision detection, and shadows.
The Aerometrex San Francisco High Resolution 3D Model with Street Level Enhanced 3D has been generated using advanced aerial acquisition and photogrammetry techniques that extract accurate geometric information from aerial photographs. Extremely dense 3D point clouds are generated prior to being transformed into a fully-textured mesh object. To generate geographically accurate data, precise ground control points are integrated into the processing chain. Special care and quality control systems are implemented at all stages of the process.
Specifications are as follows:
Ferry Building Street Level Enhanced 3D Model Specifications: Up to 6mm/pixel resolution
Downtown San Francisco: 2cm/pixel resolution
San Francisco: 5cm/pixel resolution
Aerometrex was an early adopter of the 3D Tiles open standard and we're thrilled to be working with them to make their data accessible in more engines. Contact Aerometrex  if you're interested in purchasing photogrammetry datasets for locations across the United States and Australia. Sign up for a free Cesium ion account to get access to Aerometrex's San Francisco and Denver Photogrammetry, and look out for more Aerometrex sample datasets in 2023!